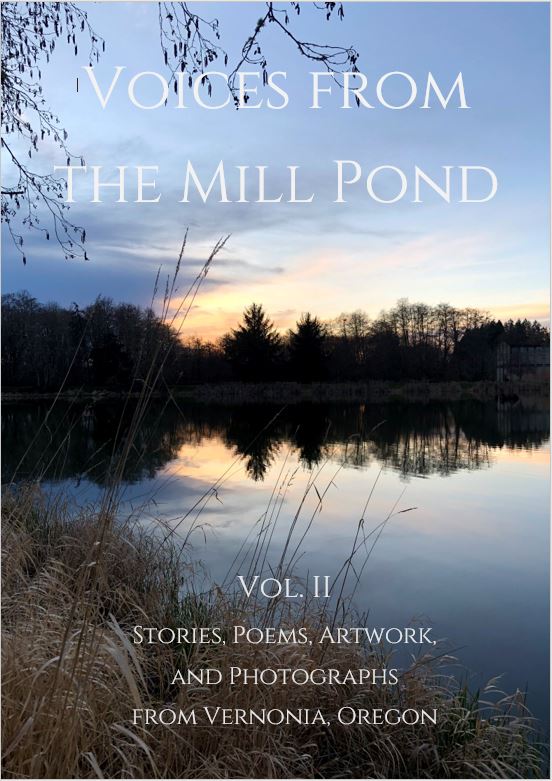 Last February, when Hands on Art and Vernonia's Voice kicked off a call for submissions for a second book, we had no idea that a month later, we'd find ourselves in the midst of the Covid-19 pandemic. With the ensuing disruptions and anxiety, no one, it seemed, gave a hoot about writing stories or poetry or taking photos. And yet, somehow, the submissions trickled in, and Voices from the Mill Pond, Volume II was born.
Picking a cover for our second volume wasn't an easy task. Especially since we received over a hundred fabulous photos. We poured through them, seeking an image that highlighted the pond, of course, but also one that contained the necessary compositional elements: orientation and size, dpi, the right color and busy-ness when contrasted with the text, and one that possessed its own intrinsic beauty.  We believe we made the perfect choice.
Vernonia's Voice and Hands on Art chose Mike Pym's photo for the cover of Voices from the Mill Pond, Vol. II. 
Many thanks to the residents of Vernonia, past and present, for their stories, poems, histories, photos, and memories. Once again, Vernonia has outdone itself, and our community spirit is alive and well. 
Voices from the Mill Pond, Vol. II is now available on Amazon as well as around town. You can find it at the library and at the R&S Market. It's a perfect gift for the holidays that honors our talented and beautiful community.